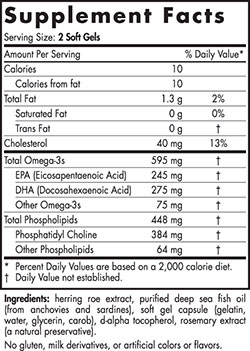 Omega-3 Phospholipids combines one of the top-selling triglyceride-form fish oils with phospholipid-bound omega-3s from sustainably sourced herring roe. Most of the omega-3s (EPA and DHA) in the brain, eyes, and central nervous system are found in the phospholipid-bound molecular form. Omega-3 Phospholipids has naturally occurring phosphatidyl choline, and delivers more than 520 mg of omega-3 essential fatty acids, meeting the expert-recommended dose of 500 mg per day.
SUGGESTED USE: Two soft gels daily, with food, or as directed by your health care professional or pharmacist.
The potent alternative to krill
Small, easy-to-swallow soft gels
Provides over 500 mg omega-3s (EPA+DHA) per serving, meeting the expert-recommended dose of 500 mg per day
Supports heart and brain health*
Promotes healthy cell development and maintenance*
From sustainably sourced fish and herring roe

Why Buy Direct? In a word, freshness! Walk into your local vitamin shop, or shopping warehouse, and take a close look at their stock. Chances are you will find some products that may be close to expiration; and, may appear as if they've been sitting on the shelf for awhile! Here at Omega-Direct freshness is priority one! To ensure that you receive only the freshest stock we have taken the following steps:
All orders ship via ultra fast, USPS Priority 2-3 Day Air minimizing the chance of heat related damage. Compare this to UPS Ground which can take up to 7 days.
By selling hundreds of bottles a week new inventory arrives on a daily basis.
All stock is kept in a climate controlled warehouse at a constant 77 degrees.
We use a just-in-time inventory system which ensures that all our stock is no more than two weeks old.
Nordic Naturals takes great care during processing and handling to ensure you receive a product of unparalleled quality and freshness. Why compromise this by ordering older product from a retailer with unknown or questionable handling and storage procedures?
No video is available for this product.