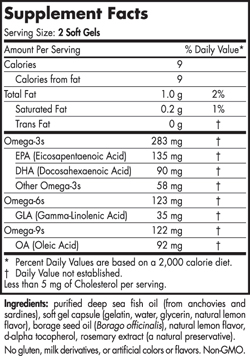 These tasty, chewable soft gels and yummy liquids provide a balance of all the omega fats (3, 6, and 9) to support children's brain and eye development, and overall well-being.* Nordic Naturals ProEFA Junior™ also delivers important nutrients for nourishing skin, hair, and nails.* Many say, "it tastes like a lemon drop!"
SUGGESTED USE: Two soft gels daily, with food, or as directed by your health care professional or pharmacist.
Supports brain and visual function for ages 5+*
Original research has shown that ProEFA Junior™ supports positive behavioral outcomes in children*

Why Buy Direct? In a word, freshness! Walk into your local vitamin shop, or shopping warehouse, and take a close look at their stock. Chances are you will find some products that may be close to expiration; and, may appear as if they've been sitting on the shelf for awhile! Here at Omega-Direct freshness is priority one! To ensure that you receive only the freshest stock we have taken the following steps:
All orders ship via ultra fast, USPS Priority 2-3 Day Air minimizing the chance of heat related damage. Compare this to UPS Ground which can take up to 7 days.
By selling hundreds of bottles a week new inventory arrives on a daily basis.
All stock is kept in a climate controlled warehouse at a constant 77 degrees.
We use a just-in-time inventory system which ensures that all our stock is no more than two weeks old.
Nordic Naturals takes great care during processing and handling to ensure you receive a product of unparalleled quality and freshness. Why compromise this by ordering older product from a retailer with unknown or questionable handling and storage procedures?
No video is available for this product.