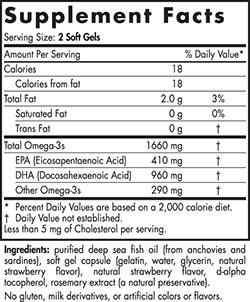 Nordic Naturals ProDHA™ 1000 is an omega-rich formula that offers increased DHA potency in fewer soft gels. With the same great formula as ProDHA™, ProDHA 1000™ provides maximum benefits in 1000 mg soft gels. With 100% natural strawberry essence for a great fruity taste, ProDHA 1000™ offers 900 mg of DHA per serving, maximizing your dosage, and thus benefits.
Although the omega-3s EPA and DHA occur naturally together in fish oil and work together in the body, research shows that each fatty acid has unique benefits. DHA is the fatty acid that supports a healthy brain, eyes, nervous system, and mood.*
In fact, at least 20% of the brain is comprised of this vital fatty acid. Research shows that DHA supports memory, cognition, and emotional well-being, in addition to promoting healthy eyes.*
SUGGESTED USE: Two soft gels daily, with food, or as directed by your health care professional or pharmacist.
High-potency formula for enhanced results

Research-proven benefits for the eyes, brain, and mood*

100% natural strawberry essence provides a delicious taste

Why Buy Direct? In a word, freshness! Walk into your local vitamin shop, or shopping warehouse, and take a close look at their stock. Chances are you will find some products that may be close to expiration; and, may appear as if they've been sitting on the shelf for awhile! Here at Omega-Direct freshness is priority one! To ensure that you receive only the freshest stock we have taken the following steps:
All orders ship via ultra fast, USPS Priority 2-3 Day Air minimizing the chance of heat related damage. Compare this to UPS Ground which can take up to 7 days.
By selling hundreds of bottles a week new inventory arrives on a daily basis.
All stock is kept in a climate controlled warehouse at a constant 77 degrees.
We use a just-in-time inventory system which ensures that all our stock is no more than two weeks old.
Nordic Naturals takes great care during processing and handling to ensure you receive a product of unparalleled quality and freshness. Why compromise this by ordering older product from a retailer with unknown or questionable handling and storage procedures?