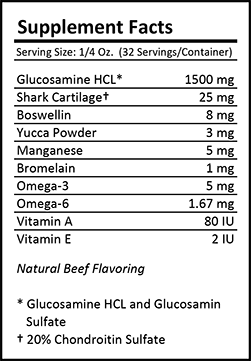 Synflex® is the most effective glucosamine product for pets on the market today. The majority of glucosamine products available today are in tablet or capsule form, which provides glucosamine as a powder. In powder form, glucosamine is not absorbed very well (about 11-20% is actually absorbed) which means it can often take 6-10 weeks for your pet to improve if they ever do.

Synflex® is in a high quality liquid formula, and has a 98% absorption rate. With the pharmaceutical grade glucosamine and eleven other beneficial ingredients, pet owners are able to notice a significant improvement much sooner.

Synflex® doesn't just stop your dog or cat's pain, it stops the disease by stimulating the production of proteoglycan and glycosaminoglycan molecules which renew the supply of synovial fluid within the cartilage matrix of the diseased joint(s), rehabilitating the cartilage and allowing your pet to move without pain.†
SUGGESTED USE: One 1/4 ounce per day.
Synflex® provides you these benefits:
Effectively treat and prevent arthritis and hip dysplasia
Stop articular joint pain
Restore joint health
Stimulate the production of Synovial fluid
Rebuild and rehabilitate damaged cartilage
Prevent future deterioration of cartilage
Reduce inflammation
Improve mobility

Why Buy Direct? In a word, freshness! Walk into your local vitamin shop, or shopping warehouse, and take a close look at their stock. Chances are you will find some products that may be close to expiration; and, may appear as if they've been sitting on the shelf for awhile! Here at Omega-Direct freshness is priority one! To ensure that you receive only the freshest stock we have taken the following steps:
All orders ship via ultra fast, USPS Priority 2-3 Day Air minimizing the chance of heat related damage. Compare this to UPS Ground which can take up to 7 days.
By selling hundreds of bottles a week new inventory arrives on a daily basis.
All stock is kept in a climate controlled warehouse at a constant 77 degrees.
We use a just-in-time inventory system which ensures that all our stock is no more than two weeks old.
ActiveX America takes great care during processing and handling to ensure you receive a product of unparalleled quality and freshness. Why compromise this by ordering older product from a retailer with unknown or questionable handling and storage procedures?
Glucosamine is a charged sugar molecule that is a key component of the extra cellular matrix of cartilage. It absorbs and releases water with each step, thereby acting as a shock absorber for the joints. With more glucosamine, there is more joint protection. It is the essential and principal ingredient that determines the quantity of proteoglycan (water-holding) molecules that are formed in the body. The proteoglycans are large, water-binding molecules made up of (both) proteins and sugars. These are a major building block of healthy, vital cartilage. Glucosamine also stimulates the production of glycosaminoglycans (GAG's) which are important proteins found in cartilage. They serve to "bind" the water within the cartilage matrix, slowing the deterioration of your joints, and easing your pain.
Synflex (synflex) is a registered trademark of ActiveX America, Inc. (Copyright 2002); and, all graphic images, logo, name and text are used by permission.