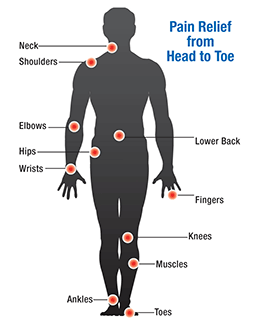 The makers of Synflex® are proud to introduce Synflex® Power+Plus™. When you are seeking relief from nagging, persistent pain, nothing equals the all-out effectiveness of Synflex® Power+Plus™.

This easy-to-use "roll-on" pain reliever provides immediate and fast-acting relief for joint and muscle pain too. Combined with the use of Synflex®, there is no finer combination of products to bring your arthritis pain under control! .†
SUGGESTED USE: Roll on as needed.

Why Buy Direct? In a word, freshness! Walk into your local vitamin shop, or shopping warehouse, and take a close look at their stock. Chances are you will find some products that may be close to expiration; and, may appear as if they've been sitting on the shelf for awhile! Here at Omega-Direct freshness is priority one! To ensure that you receive only the freshest stock we have taken the following steps:
All orders ship via ultra fast, USPS Priority 2-3 Day Air minimizing the chance of heat related damage. Compare this to UPS Ground which can take up to 7 days.
By selling hundreds of bottles a week new inventory arrives on a daily basis.
All stock is kept in a climate controlled warehouse at a constant 77 degrees.
We use a just-in-time inventory system which ensures that all our stock is no more than two weeks old.
ActiveX America takes great care during processing and handling to ensure you receive a product of unparalleled quality and freshness. Why compromise this by ordering older product from a retailer with unknown or questionable handling and storage procedures?
Glucosamine HCL: Glucosamine HCL is a 99% pure ingredient. Glucosamine supplementation enhances the ability of the body to manufacture collagen and proteoglycans, which are essential for rebuilding joints. Glucosamine also enhances the ability of the body to manufacture synovial fluid, which lubricates your joints.
MSM (MethylSulfonylMethane): A major detoxifier of the body, is responsible for opening the sodium/potassium pump in every cell allowing fluids into the cell membrane while permitting toxins to exit. Great transporter for nutrients.
Camphor: counter- irritant, anesthetic and antiseptic properties
Menthol: Stimulant, cooling agent
Isopropyl Myristate: used in topical medicinal preparations where good absorption through the skin is desired.
Synflex (synflex) is a registered trademark of ActiveX America, Inc. (Copyright 2002); and, all graphic images, logo, name and text are used by permission.